Paper Development Workshops are designed to provide authors with guidance and expertise in the development of their manuscript for potential submission to an Academy journal.

The workshops include general presentations about the individual journal by members of that journal's editorial team, as well as roundtable discussions that focus on providing authors with practical and developmental feedback aimed at strengthening and improving their papers.
The workshops are open to all Academy members, as well as non-members. Some portions of these workshops may be photographed or videotaped for potential promotion that AOM may create on behalf of the publications. If you have concerns about potentially appearing as a participant in the photographs and/or videos and would like to opt out, please email Susan Zaid within one week of the workshop date to let us know your concern. If you choose to opt out, please also send us your picture so we know who to block from the photos and/or video. If we do not hear from you, we will assume that you are comfortable with potential inclusion in this regard.
Click on the links below for details about each individual journal workshop.

, Carlton
Postponed—check back for future updates.
Academy of Management Discoveries (AMD) is pleased to offer a unique opportunity for management scholars to develop their empirical exploration papers, the AMD Paper Development Workshops.

The purpose of each AMD Paper Development Workshop is to pair experienced AMD authors/editors with participants who are interested in learning about empirical exploration and improving their manuscripts centered on empirical exploration. If you are unsure whether you are engaging in empirical exploration, please read more about AMD here and here.
To apply for participation in the AMD Paper Development Workshop, you are required to submit an extended abstract. Here are the guidelines all submissions should follow:

Extended abstracts should be no more than 10 pages double-spaced, excluding tables, figures and references.
The extended abstract should include discussions of: the phenomenon of interest, how existing theory fails to explain the phenomenon, the methodology, findings centered on one or more discoveries (what emerged from the empirical exploration), and implications for future theorizing in management. Authors are encouraged to include headers to demarcate these sections so as to best facilitate discussion.
Authors are welcome to submit questions at the end of the extended abstract, specifically around areas for which they would like help, or questions around how to craft the paper for AMD. These questions do not count against the 10-page limit.
AMD editor Kevin Rockmann will choose the extended abstracts that will be invited for discussion. Extended abstracts will be accepted on a competitive basis. As (virtual) discussions will revolve around extended abstracts submitted to and accepted for each workshop, only those authors with accepted manuscripts will be invited to attend. Note: Papers that are already under review at AMD (or elsewhere) cannot be submitted to this workshop.
The editors of the Academy of Management Learning & Education (AMLE) invite applications for a Paper Development Workshop (PDW) connected to the Special Issue of AMLE on:
"Learning and Education Strategies for Scholarly Impact: Influencing Regulation, Policy and Society through Research"
Those who wish to have their paper reviewed and discussed should submit an extended abstract by Thursday, 25 March 2021.
The virtual paper development workshop will be held Tuesday, 30 March 2021, 9:00 am - 12:00 pm US EST, 2:00 pm - 5:00 pm GMT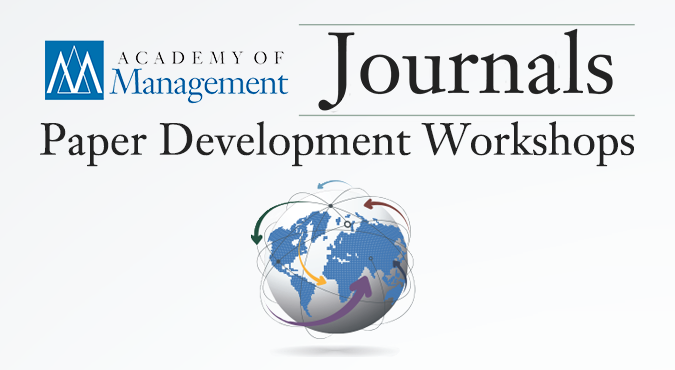 AMP Virtual Proposal Development Workshop
This workshop is a unique opportunity for management scholars to develop their work for possible publication in Academy of Management Perspectives.
The purpose of the workshop is to help authors develop and refine ideas for submission to a forthcoming Special Topic Forum at the Academy of Management Review.

This paper draft development workshop (PDDW) is aimed at exploring the opportunities and processes for developing theories of management and organization that are indigenous to Africa.